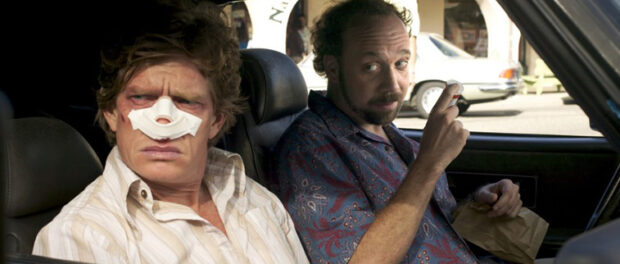 [8]
Writer/director Alexander Payne (Election, About Schmidt) takes us on a trip through California wine country with two middle-aged college buddies in Sideways, based on a novel by Rex Pickett. Paul Giamatti plays a divorced junior high school teacher suffering from depression and anxiety whose dream of becoming a published author is about the only thing keeping him going. Thomas Haden Church is a somewhat successful actor about to get married. Giamatti's character is a passionate wine enthusiast hoping to get Church to share his obsession, but all Church really wants to do is sleep around with whatever women he can find.
Sideways has a wonderful, breezy pace that makes you feel like a passenger along for the ride. The laughs are subtle, sometimes the kind that creep up on you, and almost entirely rooted in well-developed characters. I was moved by Giamatti's performance and what the film has to say about broken dreams, middle-aged anxiety, and mental health. That Payne could tackle such material and keep the movie light and bubbly is a remarkable fete. I hate to say that Sideways has a lesson to be learned, because it's not at all a heavy-handed film. But I really appreciate when a film is able to suggest anything revelatory about the human condition without inducing eye rolls. To that end, I think the film has something meaningful to say about how we derive our self-worth.
Giamatti is amazing in this movie, giving one of the finest performances of the last twenty years. We laugh with him and care about him, and when he does questionable things, we aren't alienated by it — we understand it. Church does well as the comedic but antagonistic force in the movie. Virginia Madsen, as a possible love interest for Giamatti, has the movie's single best moment when she delivers a monologue about why she loves wine. It's such a good performance, it makes Giamatti's character lower his defenses and give love another chance. With Sandra Oh.
Academy Award: Best Adapted Screenplay (Alexander Payne & Jim Taylor)
Oscar Nominations: Best Picture, Director, Supporting Actor (Thomas Haden Church), Supporting Actress (Virginia Madsen)