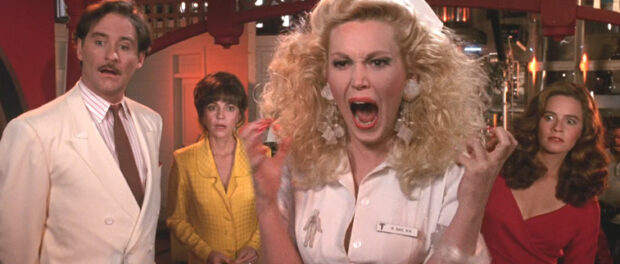 [8]
Sally Field leads a spectacular ensemble in Soapdish, a comedy that lampoons daytime TV melodramas, or 'soap operas'. Field plays an insecure soap star who fears her career may begin to wane as she enters middle-age. Little does she realize that her own life story is about to become more over-the-top than the scripts for her long-running program, The Sun Also Sets. Field is surprised when her niece, played by Elisabeth Shue (Adventures in Babysitting), and ex-lover, played by Kevin Kline (A Fish Called Wanda), join the cast, stirring up jealousy and regret. Secrets are revealed and scandal hits the set, with Field's acting nemesis (Cathy Moriarty) conspiring with the show's producer (Robert Downey Jr.) to have her written off the show. Nothing goes according to plan for anyone, though, as life imitates art.
Soapdish is a rare comedy that works from start to finish. The writing by Robert Harling (Steel Magnolias) and Andrew Bergman (The Freshman) is witty and weird, and director Michael Hoffman gives his cast a wide berth to carry the movie over the finish line. The cast looks like they're having the time of their lives, and the feeling is infectious. Field gets the opportunity to poke fun at herself, playing a lauded actor who just wants to be loved. Kline is especially funny when we first meet him, headlining Death of a Salesman at a Florida dinner theater where aged audience members have no qualms shouting for him to repeat any dialogue they might miss. The head writer of The Sun Also Sets is played by Whoopi Goldberg, who gets pretty animated when the producers insist they bring Kline back to the program years after they wrote him off via decapitation. And then there's the criminally underrated Cathy Moriarty, promising Downey Jr all variety of sexual fulfillment once Field is off the show. Their subversive interactions are a hoot, with a surprise payoff in the film's 'live broadcast' finale, where anything can happen — and does.
The great casting doesn't end there. Garry Marshall, Carrie Fisher, Kathy Najimy, Teri Hatcher, and Ben Stein pick up smaller roles and knock them out of the park. And Alan Silvestri's music, full of cha-chas, mambos, and other Caribbean rhythms, adds an extra layer of liveliness.