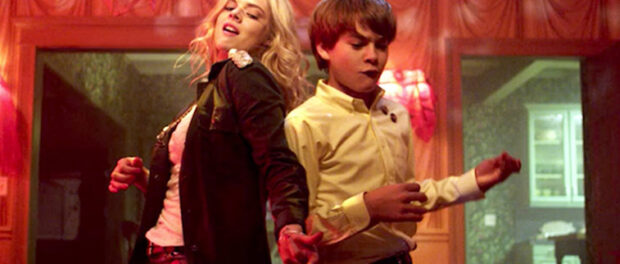 [7]
A young teen smitten with his super-cool babysitter stays up past bedtime to see what she does with her friends. When he discovers they murder people and steal the blood of innocent children for satanic rituals, he kicks into survival mode. To escape these high school devil-worshipers, he'll need to prove that he can grab fear by the balls and be the kind of guy who no longer needs a babysitter.
The Babysitter's overriding mission is to satisfy nostalgia for 80s teen horror flicks. Director McG (This Means War) pays homage with a winning blend of colorful cinematography and sets, cartoony violence, dark humor, and of course, the requisite gore. Samara Weaving (Ready or Not) and young actor Judah Lewis create a very sweet, compelling relationship as the babysitter and the babysittee. Their scenes at the beginning of the film swirl fantasy with sincerity in a disarming way, and pave the way for a poignant reckoning. Lewis' budding puppy-love with a same-aged neighbor girl (Emily Alyn Lind) is also endearing.
With Robbie Amell, Hana Mae Lee, Bella Thorne, and Andrew Bachelor.