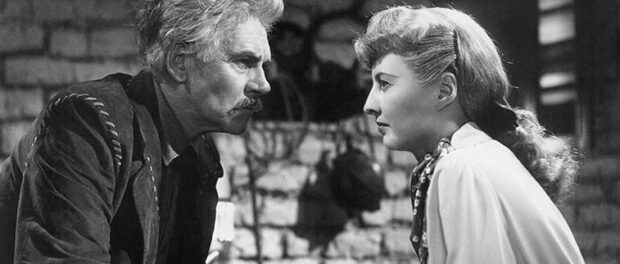 [7]
Barbara Stanwyck and Walter Huston square off in this western about a father and daughter fighting over who will control the future of the family's sprawling cattle ranch. The relationship begins as a loving, mentoring one, but transforms into a battle between master manipulators. When Huston hangs a belligerent squatter who's also Stanwyck's childhood paramour, they cross the point of no return.
The Furies is at first a challenging movie to get into, with dialogue so stylized it gives Shakespeare a run for his money. But Stanwyck and Huston (in his final performance) soon seize the reigns with two commanding performances. Their scenes together sizzle with intriguing duality, underlining the eternal sentiment that we "only hurt the ones we love". Judith Anderson (Rebecca, Edge of Darkness) gets the juiciest supporting role, playing Huston's new bride and future heiress of the ranch — a surprise that drives Stanwyck to violence.
As much as I enjoy the main plotline and character conflict, The Furies is a bit gangly with its subplots, especially with Stanwyck's multiple love interests. And for all the mean-spiritedness that precedes it, the ending is a little too conciliatory for me. But it doesn't take away from the film's uniqueness among Hollywood westerns. Victor Milner's stark, sometimes expressionist cinematography and Franz Waxman's melodramatic score duke it out with one another, in what I'm tempted to call a rare 'gothic western'.
Directed by Anthony Mann. With Wendell Corey, Gilbert Roland, and Beulah Bondi.
Oscar Nomination: Best Cinematography (Black & White)