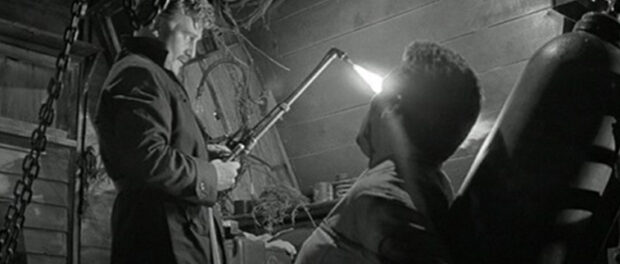 [7]
Kerwin Mathews (The 7th Voyage of Sinbad) stars an American painter who strikes up an affair with mother and daughter barkeeps in rural France. He agrees to help them break their patriarch from an asylum where he's been sentenced for murdering the daughter's rapist with a blowtorch four years earlier. They go through with the plan, but come to regret it when they discover a fresh corpse the following day. Did they do the right thing, or did they let a dangerous lunatic loose?
The Maniac is an underappreciated psychological thriller from Britain's prolific Hammer Studios. Some will find it a slow burn until the final act takes off with more twists and turns than you can shake a stick at. But I enjoyed the lead-up, thanks largely to hunky Mathews and his character's relationship with the daughter (Liliane Brousse)… and then the mother (Nadia Gray). All three actors exceed expectations, with nary a sign of Mathews' stilted Sinbad acting. The film benefits tremendously from a handful of exotic locations, from high clifftops to sandy ocean shores, contributing a wonderful escapist quality to the rising action. There's also a labyrinthine, underground quarry location where the climax takes place — a one-of-a-kind backdrop, like something out of an M.C. Escher painting.
The groovy '60s score and often stark black & white cinematography add luster. While it's not a horror film, The Maniac also features a couple of fairly intense moments involving torture and good old-fashioned cold-heartedness. For me, it's all-in-all a more entertaining flick than most of the studio's more famous monster movies.