The Petrified Forest (1936)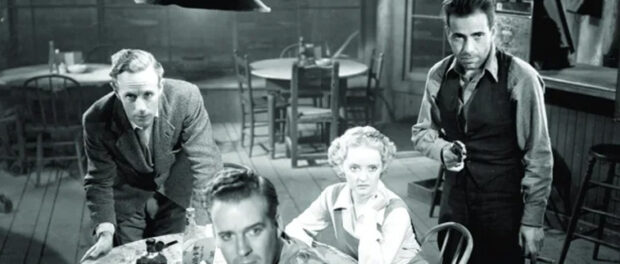 [5]
Leslie Howard, Bette Davis, and Humphrey Bogart star in this overly-talky stage play adaptation about disparate characters whose lives intersect when a notorious criminal on the lam (Bogart) takes them all hostage at a gas station diner in the middle of the desert. Director Archie Mayo conjures terrific ambience with the dust-blown stage set, especially during the climactic shoot-out when the only light source is the establishment's flashing neon sign. But there's very little action to break up the constant pontification. Howard's philosophical hobo character grates on the nerves and Davis feels miscast as the waitress who falls under his spell. Genevieve Tobin is interesting in the role of a hostage who finds both Howard and Bogart more manly than her own husband, and Charley Grapewin (The Wizard of Oz) offers levity as an old man who is more star-struck by Bogart's character than fearful.
The Petrified Forest is a mixed bag overall, but there's no doubt about it's greatest attribute — the star-making turn given by Humphrey Bogart. Bogart had been in many other films prior to this one, but he was never able to leave an impression as big as he does here. He enters the picture with a curious physical demeanor and a reserved verbal prowess that steals the show out from under everyone. It helps that all the other characters try at various times to 'crack' his character, to find some soft spot in his gruff exterior. They never quite succeed, shuffling the mystery of the Bogart's on-screen persona off to other, future movies — and a long Hollywood career. With Dick Foran, Porter Hall, and Paul Harvey.