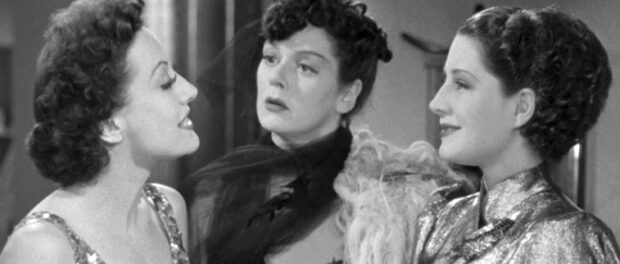 [8]
Norma Shearer (The Divorcee) fronts an all-star, all-female cast in George Cukor's adaptation of Clare Boothe Luce's The Women. Shearer plays a happily married woman of privilege who learns through the gossipy grapevine that her husband is having an affair with another woman, played by Joan Crawford. Shearer struggles under the dueling influences of her mother (Lucile Watson) and her so-called 'friends', which include Rosalind Russell and Joan Fontaine. Should she fight for her man, or leave town with her pride intact?
The Women offers a smorgasbord of juicy performances from MGM's top female talent of the day, anchored by Shearer, with Crawford at her delightfully nastiest, Russell at her manic best, and more notable supporting turns than any movie deserves — including Marjorie Main as a uncouth innkeeper, Mary Boland as a daffy duchess, and Paulette Goddard as a calculating adulterer. It's such an embarrassment of riches, that the film ends up running a bit long (at two hours, thirteen minutes). Yet the only sequence that feels out of place is an odd Technicolor fashion show that stops the story dead in its tracks. (The rest of the film is in black & white.)
The screenplay hasn't weathered the feminist movement very well. All the characters spend the entire duration of the movie talking about men and none of them are able to see a successful lifestyle that doesn't depend on marriage to a wealthy one. But if you take The Women as a product of its time, and embrace the satirical and camp value — it's a lot of fun.